Information Awareness Month – Gov 2.0: Communities and conversations
Wednesday, May 5th, 2010 @ 9:39AM
Senator Lundy gave this speech to open Information Awareness Month 2010. Below is the full speech, whereas the video was edited slightly to the maximum length allowed by Youtube. Below are also some of the other video content presented at the event.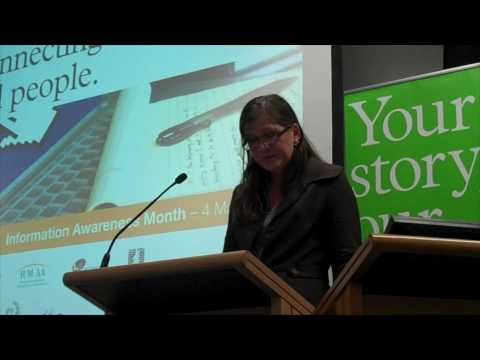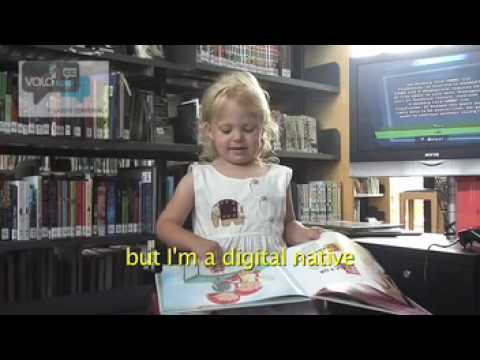 I acknowledge the traditional owners of the land on which we are gathered, the Ngunnawal People. I pay my respects to their elders past and present and thank them for their continuing contribution to community life in our beautiful city and national capital, Canberra.
I would also like to acknowledge:
the Director General of the National Archives, Ross Gibbs;
the Information Awareness Month committee;
all information professionals and practitioners whose exceptional work we are celebrating this month;
ladies and gentlemen;
and particularly to the two students from Dickson College for their wonderful presentation.
The first term of a new government is arguably one of the most transformative periods in modern democracies as new ideas responding to new challenges overtake the old and irrelevant.
Around the world, governments and their leaders are exploring the possibilities the Internet offers to redefine democratic participation: and redefine it in a way that renews confidence in our systems of governance and public administration.
We are witness to communities leaping ahead with their own innovations in response to slow, old fashioned bureaucracies. The Internet is the open platform of choice and the freedom and creativity being displayed in the design of new digital tools – be they services, ways to communicate, collaborate and share – are all inspiring.
It is the nations which are able to harness the energy and excitement for active engagement using these new digital tools that will best be able to respond to the challenges and complexities of modern government.
Why? Because through this engagement we are able to tap into the experience, ideas and expertise of a whole population and use it to inform the task at hand.
Australia is well placed to be a leading nation in this regard. With our focus on social inclusion, lifelong wellbeing, sustainability and growing the economy, we have been investing in the foundations of our future prosperity.
I can say with some authority that Australia has never before been better prepared to leverage the opportunities of the digital age.
Having held the IT portfolio in opposition and participated in every IT and communications related senate inquiry for the last 14 years, we are finally making the investments necessary to engage in the globally competitive information industry and build our capacity to innovate locally across every sector through the creative application of technology.
The National Broadband Network and the Digital Education Revolution exemplify the magnitude of our plan to close the digital divide and ensure the next generation of Australians is well equipped to fully participate in an online-enabled society.
And I reference the St Hilda's presentation as a case in point.
While these two transformative policies set a firm base for participation by citizens in a digital economy, the Government has also taken a visionary approach to
citizen-centric services,
democratising information and
citizen engagement & collaboration.
Yesterday, on the eve of Information Awareness Month for 2010, the federal government provided further practical substance to the policy commitment to an open & transparent government through their response to the Gov 2.0 Taskforce Report.
Cabinet Secretary and Special Minister of State Senator Joe Ludwig and Minister for Finance and Deregulation Lindsay Tanner, announced the Government's response to the recommendations contained in the Report of the Gov2.0 Taskforce.
The response was extremely positive with nearly all of the recommendations be agreed to.
This is a significant step forward for Australia as the Taskforce brief was to define the first important steps to achieve an open government relevant to, engaged with and responsive to the needs of citizens. In other words, the first steps to redefining participation in our democracy.
So what is Gov2.0 and how is it relevant to ordinary Australians?
The term Gov 2.0 is a play on Web 2.0. It infers the application of Web 2.0 tools and practices to government but also infers a next generation approach to government.
Web 2.0 is generally accepted as meaning the interactive and socially connected web that many users now take for granted.
Citizen-centric services
I would first like to discuss citizen-centric services.
This direction was reinforced recently in the Blueprint for reform of the Australian Government Administration, titled "Ahead of the Game". Chaired by the Secretary of the Department of Prime Minister and Cabinet,Terry Moran, this report recommends the implementation of citizen focused service delivery.
It recommends leveraging technology for automated and simplified processes fuelling my hope that bureaucratic silos and the rigid distinction between federal, state and territory and local govt fade in an integrated online environment that is relevant and responsive to the individual citizen's needs.
Significantly, it recommends strategies for achieving more open government that enables citizens to collaborate on policy and service delivery, allowing more tailored solutions for communities.
Democratising information
I'll turn now to democratising information.
Making information collected for and on behalf of the citizens of Australia publicly available, unless there is a demonstrable reason not to, represents a big change in attitude, culture and practice.
The first significant step is the Freedom of Information Amendment (Reform) Bill 2009 and Information Commissioner Bill 2009.
These Bills represent the significant overhaul of Australia's Freedom of Information laws in over 25 years. I know the Minister is working hard to have them considered by the Senate in the forthcoming winter session of parliament.
The Senate Committee report into these Bills, tabled in March endorsed the governments pro-disclosure approach across government and offered some practical recommendations that are now being considered by the Government.
These Bills help build a strong foundation for more openness in Government and I particularly welcome the announcement of the Information Commissioner designate, Professor John McMillan AO, who will take up the role of the Information Commissioner as soon as the Bills pass.
A great example of creating new value through the use of government data with the ideas and contributions of the community is the Mapping our Anzac's website created by the National Archives of Australia.
The website is a tool to browse service records in the Australian Army from World War I, and families and friends can contribute their own personal reflections and memories to the web site. This builds on the nations' collective memory and understanding of the experience of our first world war veterans.
We also saw several wonderful examples of the power of open data last year through the Mashup Australia initiative. This was a series of events supported by the Gov 2.0 Taskforce that saw individuals from all over the country come together for a few days to innovate with government data sets creating new and at times quite fascinating comparisons, visualisations and demonstrations of information.
For instance, one team combined data from the Australian Bureau of Statistics, New South Wales Crime Data, Powerhouse Museum Collection, the State Records Office of New South Wales and the State Library of New South Wales to create an application called "Know where you live" where upon entering your postcode, you would be presented with a rich collection of information, images, and comparative data about your suburb.
Engaged and collaborative government
Finally I'd like to briefly discuss engaged and collaborative government.
Gov 2.0 is an opportunity to take government to a new level of citizen participation – where citizens can engage directly in partnership with government to co-design future directions.
There are some outstanding examples of government consultations leveraging online tools and methods, including:
the Your Health consultation where people could contribute videos and stories about their experience of the Australian health sector,
the Department of Broadband, Communications and the Digital Economy broadband future consultation which was streamed live, incorporated several volunteer run remote nodes and collated an enormous amount of valuable insights from the community about the opportunities presented by the National Broadband Network,
the Gov 2.0 Taskforce report drafting process, which was largely done on an open blog and through open town hall style consultations, and
And I'd also like to mention my own Public Sphere consultations which at one point by combining new and traditional models we were using up to 8 different social networking tools already available in the cloud to extend the conversation to thousands of people. Whilst not a government consultation per se and with the help of some amazing volunteers, we were able to demonstrate the high value of genuine community engagement and participation in policy development.
So where is the Gov 2.0 agenda up to in Australia?
The Taskforce tackled the daunting challenge of providing the Government with a practical blueprint for Gov 2.0 in Australia. The aim was to get the ball rolling with practical steps to make public information more easily available, to better engage with citizens online, and to reinvigorate and modernise the public sector to be better able to respond to and engage with the community.
I am very pleased to inform everyone that the response from the Government was positive. Almost all of the recommendations were agreed to. This is an excellent endorsement of the quality of the report and I would like to take this opportunity to congratulate the Chair, Dr Nicholas Gruen, the members of the taskforce, their dedicated staff and committed community who gave their own time and experiences to contribute to the success of this very important body of work.
The taskforce reported along three main themes, and I'll briefly describe the practical measures to address each theme:
The Government response to the Leadership, policy and governance to achieve necessary shifts in public sector culture and practice will include the launch of a Declaration of Open Government in the near future.
The government has identified the Dept of Finance as the lead agency to implement the Gov 2.0 agenda along with a steering group made up of a range of agencies including of course the National Archives of Australia.
In addition, Government 2.0 as a category as been added to the normal reporting by agencies and an Awards for Excellence in government 2.0 will be implemented to grow enthusiasm and initiative in the public sector.
The Government response to the next theme, the application of Web 2.0 collaborative tools and practices to the business of government, included directing the lead agency to put in place support, advice, and knowledge sharing mechanisms to assist agencies in applying Web 2.0 tools and practices to the business of government.
This recognises that the interactive web can be used to better empower citizens to engage with and share their expertise and experiences in collaboration with government in a multitude of dimensions.
The government also encourages more use of technology and social media by the public sector.
Of course we have also committed to a rigorous approach to web accessibility as part of delivering Gov 2.0 initiatives to ensure every Australian is included.
Finally, the government response to the third theme of open access to public sector information (PSI) includes a commitment to a stronger pro-disclosure approach to government data.
For instance, when records become available for public access, they will be automatically placed under a permissive copyright licence, which is a huge step forward from the default Crown Copyright usually placed on all government works.
This builds on the scope of the FOI reforms I mentioned earlier. Importantly the government response identifies an important role for the Information Commissioner designate.
Let me conclude by saying, what an exciting time we are all in at the moment.
The Gov 2.0 agenda will bring to all Australians new opportunities to engage with, gain access to and reuse government data for innovation and enhanced transparency. It will also enable the delivery of government services and information to be more effective and personally relevant.
Importantly, our capacity to innovate within Government is being tackled through the 'Ahead of the Game' report.
Combined with the transformative policies of the national Broadband Network and the Digital Education the Rudd Labor Government has committed to an Gov 2.0 agenda, to an open and transparent approach to government. This approach stands us in good stead to strengthen our democracy and prepare us for the challenges ahead.
I thorougly approve of and endorse the theme of Information Awareness Month – Access Across Generations. More than anything else, Digital technology is building bridges, between all facets of society.
I would like to thank the institutions and libraries whose role will only increase as expertise in information management continues to ascend in importance to our society and economy.
So I'd like to wish everybody a fantastic month. This is a celebration of your work and with that,  I am very pleased to officially launch Information Awareness Month 2010!
Thank you.
Further reading
Here are the main recommendations of the taskforce report, the basics of the Government response and some of my thoughts about the impact of these for Australia.
Central Recommendation: A declaration of open government by the Australian Government
We have agreed that a declaration of open government is important, not only to "assist in driving a pro-disclosure culture across government" but because with any form of change, leadership is vital, and this government is committed to leading Australia forward in this space.
Recommendation 2: Coordinate with leadership, guidance and support
We have agreed a lead agency needs to be responsible for the overall strategy and implementation of the Gov 2.0 agenda, and the Department of Finance and Deregulation has been nominated that lead agency. We have also agreed to engage with other levels of government for sharing, learning and the promotion of best practice. Because we now have a lead agency for this agenda, we are able to move forward with implementing a Gov 2.0 work program.
Recommendation 3: Improve guidance and require agencies to engage online
We have agreed to create and make available guidance and other support mechanisms to help government be more consultative online. This is very exciting as it will see online tools and methods become a normal part of government consultations, which will mean more citizens can more easily contribute their ideas and experiences. By committing to this, we will be able to collect more citizen input, and there make more informed decisions.
Recommendation 4: Encourage public servants to engage online
We have agreed to create guidance to genuinely improve engagement and empowerment of public servants within their agency-specific role. This recommendation sounds reasonably trivial, but it will encourage more innovation in service delivery, more dialogue between citizens and people within the public service, and more sharing of knowledge across government.
Recommendation 5: Awards
We have agreed that Government 2.0 innovation and excellence should be recognised and rewarded, and again this will improve the incentive for agencies to innovate in this space, leading to better services and support for citizens.
Recommendation 6: Make public sector information open, accessible and reusable
This was a very big area, and we have agreed in principle to the recommendations around open data, with some of the specifics needing to be deferred to the proposed office of the Information Commissioner. When records become available for public access, they will be automatically placed under a permissive copyright licence, which is a huge step forward from the default Crown Copyright placed on all government works. We have also committed to developing the data.gov.au website to facilitate better public access to government data. This central repository for data should become a beacon for public innovation and value adding, and a great step towards an even more open and transparent government.
Also, a lot of other information about the publication of open data was agreed to, including that "By default Public Sector Information (PSI) should be:"
free
based on open standards
easily discoverable
understandable
machine-readable
freely reusable and transformable.
Recommendation 7: Addressing issues in the operation of copyright
We have agreed generally with the recommendations, apart from maintaining that the function of copyright management should stay with the AGD rather than shifting into the proposed Office of the Information Commissioner.
Recommendation 8: Information publication scheme
This recommendation was largely about encouraging the proposed Information Commissioner take into account the findings of the Whole of Government Information Publication Scheme report, and we have noted the recommendation and deferred it to be brought up with the IC once nominated.
Recommendation 9: Accessibility
We agreed with the recommendations about accessibility, especially given the fact that many Web 2.0 tools are not intrinsically accessible, and we must ensure that accessibility is built in as part of the design of any new project. Agencies will be required to either comply with the WCAG accessibility compliance guidelines, or to provide an alternate and accessible option for the project.
Recommendation 10: Security and Web 2.0
We agreed with the recommendations around security with a slight modification, in that agencies would be supported through better practice guides and appropriate mitigation option. Again, this will be considered by the Information Commissioner.
Recommendation 11: Privacy and confidentiality
We noted these recommendations which were about the protection of personal information are largely already in place, and the Information Publication Scheme will provide the legislative framework.
Recommendation 12: Definition of Commonwealth Record
The archival of the Commonwealth record is very important given the context of new online tools, particularly where information is stored in the "cloud", and we agreed that agencies are required to retain Commonwealth records as defined in the Archives Act 1983. We also agreed to the establishment of metadata standards, to improve the sharing, reuse and discoverability of PSI.
Recommendation 13: Encourage info-philanthropy
This recommendation was about tax incentives for info-philanthropy, and we deferred this recommendation to be considered as part of the Australia's Future Tax System Review and the Productivity Commission's report into the contribution of the not for profit sector.
Posted by Kate Lundy
Categories: Public Speeches
Tags: ACT, broadband, democracy, digital economy, gov20, government, ICT, Internet, NBN, open data, open government, open standards