Gov 2.0 creates resilience in a 21st century democracy – FutureGov 2011 address
Friday, December 2nd, 2011 @ 2:37PM
Below is the address Senator Lundy gave to FutureGov 2011 on Gov 2.0 as a mechanism for resilience in a 21st century democracy. Below the speech are some short podcasts from Andrew Stott (previous Director of Digital Engagement in the UK) and Chris Moore (CIO for the City of Edmonton, Canada).
All transcripts are under the videos below and the interviews are captioned.
Senator Kate Lundy speaking on Gov 2.0 at FutureGov 2011 (@katelundy)

Short video with Chris Moore, CIO of the City of Edmonton, Canada
@chrisj_moore | blog
Captions available on the video and transcript below.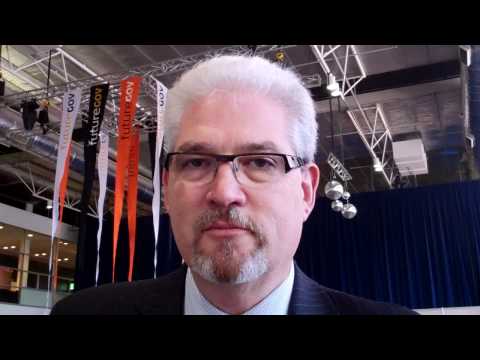 Short video with Andrew Stott, previous Director of Digital Engagement in the UK
@dirdigeng | data.gov.uk
Captions available on the video and transcript below.

Senator Kate Lundy – Address to FutureGov 2011
I would like to acknowledge the traditional owners of the land on which we are gathered this morning and pay my respects to their elders past and present and thank them for their ongoing contribution to our beautiful community here in the nation's capital.
For those of you who were unfortunate not to get out for a run or a walk this morning, it was a beautiful morning. I would like to thank FutureGov for hosting this conference here. It is a pleasure to be here to address you.
I'd like to reflect on a number of issues. I'll start with the questions. Does the government of the 21st century shape, or conversely merely reflect the health of our democracy and our resilience as a civil society? Well I firmly believe the government shapes both. At a time when unexpected issues like natural disasters, cycles of the global economic financial crisis create uncertainty and there is a need for ongoing leadership in the shape of government and the methods we use to engage with citizens.
How decisions are made and implemented informs the level of confidence and trust held by citizens in their government and in their public administration. Resilience is about the capacity to adapt to consequences of a major event. How governments ensure that we have resilience within our services is a key determinant of success in a very uncertain future.
This means transparency and openness about how decisions are made is a prerequisite to building that confidence and trust and therefore to making sure that our democratic institutions stay strong. In some respects it's not a new thing. We've often talked about evidence based policy; working from the facts, straight forward learning from experience, sharing our knowledge and applying it in innovative ways.
And the digital environment and social networking tools are creating extraordinary and unprecedented new opportunities for engagement between citizens and government. This connectedness across society is changing everything. There are new ways to tackle old challenges.
Ladies and Gentlemen I believe there is a growing hunger among citizens motivated by a desire to contribute to the public good. To make the world a better place, to share their ideas and expertise to meet other like minded citizens, to know more about and get involved in the process. This hunger for participation presents challenges for government the world over.
There is no better time to be contemplating the shape of things to come in our democracy and our future as a resilient civil society. The government of the future will be one that offers an open platform for participation, a safe and secure place to contribute and collaborate, a source of trusted reliable data, authentic engagement where manipulation is demonstrably absent. The character and function of government of the future emerges from the universal values of fairness, opportunity freedom and respect. These values form the basis of the vision this government has for Australia and however we express it, I choose to do it like this.
Australia aspires to an innovative, productive, export-orientated economy to sustain a culturally diverse, socially just and resilient connected and inclusive society in a sustainable environment. Within this statement the framework for policies for a brighter future can be found. In applying the extraordinary opportunity provided by the digital age, I'd like to speak about some of your focus over the next couple of days.
There is the platform, how do ensure universal access to the digital tools that will sustain us in the future. The skills, the knowledge, the confidence, the research and innovation and the engagement and open government. But first to the platform.
The Australian government is the only one in the world that is investing in a whole sale only open access indecently regulated fibre to the premises broadband network. This public investment in the economic and social infrastructure of the 21st century grew out of years of market failure and flawed competition policy and a lack of vision. It was announced by the government in its current form on the back of the private market having been tested and the senate inquiry that determined that fibre to the node was not future proof. The broadband network has many attributes and I only want to mention two.
First, the bandwidth. The speeds able to be achieved on the fibre network will be unprecedented and able to be updated as the technology at either end continues to develop. The innovation in services and facilities that accompanies the availability of high bandwidth is demonstrable in economic terms with the recent Deloitte research sponsored by Google citing a 50 billions dollar contribution to the economy as a result of building the NBN.
Second, it is the universality of the NBN that means that Australia will be able to close the digital divide. The inevitable closure of the digital divide means that any investment in online services or platforms for engagement will be available, at least in theory, to all citizens. This opens the door to strong public investment in innovation in Australia where other countries are tempered by their reality tat their investments will only ever be for some, not all, of their population. Participation in the online world will not be determined by geographic location or a pare gains lottery, but by skills and knowledge. The internet means that people pull information to them they don't have to sit and wait for a big push from someone else's decision.
This takes me to my next point, the skills. The Australian government has made significant investment in the digital education revolution program which has put computers in the hands of the next generation of school leavers. Making them better prepared for the work force. This program is underpinned by a wonderful attribute that Australian's share.
That is; we are a nation of early adopters. We have a high standard of living and terrific education outcomes relative to other western democracies and we move fast when new services arrive and products come onto the market. This trend is also reflected in our use of social media. Youtube Facebook and Twitter all experienced rapid growth in Australia.
Our cultural diversity also sits as a great asset for Australia in a globalised world. International credentials are essential for ongoing collaboration in social entrepreneurship, commerce science research personalisation. All of these things are great strength and they deserve to be recognised.
Australia also has a remarkable history in the area of innovation. I'm sure that many of you know this, but one of the first computers in the world, CSIRAC was built here in Australia under the leadership of Trevor Pearcey. In whose hour the computer society's Pearcey Foundation is named. The characteristics of our modern technology innovators are true to Pearcey and his contemporaries humble yet amazing by global standards. The genius and the magnitude of their contribution often not recognised and celebrated enough and still far too often I hear from people overseas about the wonderful reputation Australia has only to find that the Aussie technology solutions so celebrated elsewhere struggle to land a government contract here.
We need to inspire young people into the career options in computing science, engineering, mathematics and informatics. I can't fathom why it's getting harder and not easier to fill these courses. The definition of an IT career perhaps is getting harder.
As IT becomes core business it becomes the purview of management at least to provide the leadership to understand the potential of the use of the information technology tools that may determine the success of failure of every business. Without this leadership organisations would simply respond to the shrink wrap solutions and fail to innovate and leverage the potential of digital tools. This is true in both the public and private sector and this takes me onto where I want to spend a little time. That is on open government.
The open government agenda presents governance with a greater capacity for resilience to bounce back from unexpected issues through community engagement and collaboration and I'd like to cite the Queensland disasters last summer and the work of the Queensland police in applying social networking for a first response to give us an understanding as to what was happening on the ground. Congratulations to them for their recent award for this work. I often talk about three pillars of open government.
Democratising data; making government data openly available generates public trust which is important when it comes to timely information delivery, such as through online communication mechanisms and means.
Citizen centric services; By designing citizen centric services that helps citizens hep themselves; I compare with interest the contrast between bank services ands government services. I dream of the day where accessing government services online is not just another way to do it but its compelling, its effective, its fun and people want to go there because it gets the job done quicker.
Participatory government; presenting an opportunity to collaborate and establish feedback loops tapping into every part of society to establish resilience in how government responds to new and emerging issues. Done well this compliments the work both of public servants and elected representatives of parliament.
In the last two years we've seen substantial shift in the landscape and policy area. This has placed Australia at the forefront of global trends in Gov2.0. The ongoing strength of our economy means we can continue to progress where other nations are finding they perhaps need to falter on their agenda.
Starting with the Gov2.0 taskforce leading to the declaration of open government; the publishing of "Ahead of the game" the blueprint for the direction of the public service under the chairmanship of Terry Moran, the establishment of the Office of the Australian Information Commissioner and the cyber community strategy. All of these policy shifts present significant challenges and opportunities for government agencies and departments and these changes define the nature of the Gov2.0 agenda.
Now, in most of my presentations I like to run through a quick checklist of Gov2.0 and I'd like to do the same today. It is about inter-operability, it is about discoverability of data, open standard so we're not going to have to pay through the nose to get it in the future, it is about trust and transparency, it's about collaboration and sharing and there is a need to make sure that we are thinking about privacy and security right from the start.
The security imperative grows every single day. To leave it to the last minute as a consideration is pure folly. There are opportunities to, obviously the loud, decentralised services , data centres, cyber security collaboration and carbon footprint. So many opportunities exist here to lighten that carbon footprint through the smart use of technology.
I'd just like to spend a minute on data centres and data sovereignty and how it relates to resilience. Cloud computing is an area of technology that needs to be approached with thoughtfulness. It's reasonably new and how we integrate it into businesses is something of great excitement, but also of consideration of the privacy and security issues that need to come to the fore. I recommend the AGIMO cloud computing paper which outlines some of the security considerations needing to be taken into account; particularly in approaching it from the public sectors point of view.
With respect, I'd like a word about sovereignty. If a data centre is hosted in a country governed by different privacy laws then a jurisdictional list needs to be considered for the Australian government or public data to be hosted there. I strongly believe that attention needs to be paid to the protection of that data.
Around the world we know that we are leading as a country in this area. There's a whole range of opportunities that exist. We've got great strengths in the geospatial organisation of information in the public sector. There are great opportunities that exist in the release of this information into the private sector to allow in novation to occur. And most all what I'd like to say is unless we procure technology in a clever way then we are not going to be able to innovate across the public sector. There are myriad lessons across the international landscape about what a trap a having procurement system that mitigates against innovation can be.
There's so much information out there for people to access. The open technology foundation supports open technology standards and methods and just last weekend we had a GovCamp here in Canberra for technology innovators, soon to be a regular event.
Ladies and Gentlemen, we are an extraordinary country in the field of ICT and it's much a part of the cross-fertilization of ideas and innovation between our public and private research and our public and private sectors. Future Gov as a congress presents an opportunity for us to lift up and celebrate those achievements I think over many years, but also a very assertive forward thinking agenda to ensure that Australia retains its place at the forefront of these developments. For all of the strengths I mentioned we are an amazing society. Our innovators and our researchers are world class. Please remember this as you set your own vision and pursue your own aspirations in the work that you do. Good luck with your congress.
I've got one announcement to make before I finish and that is that next year in 2012 the major international FutureGov summit is coming to Australia to be hosted right here in the National convention centre. In partnership with the Australian e-Government technology cluster NICTA, they will stage the FutureGov summit in Australia from the 17th to the 19th of September 2012. It will bring to Australia more than 75 top level government and ICT thought leaders from across the world. I know the Australian Pavilion will be showcasing over 20 local companies. This is a fantastic opportunity to build our reputation and improve our opportunities for international collaboration.
It's an exciting time. Thankyou for having me here this morning and good luck in your deliberations.
Short video with Chris Moore transcript:
Pia:
This is Chris Moore, the CIO of the City of Edmonton. Just thought we'd take a few minutes to have a quick chat.
So how are you enjoying FutureGov and what are your thoughts on what's happening in Gov 2.0 in Australia?
Chris:
Really enjoying FutureGov. It's a great opportunity for leaders from around the world and across Australia to get together and talk about the future. But for me, I've been following what's been happening in Australia for a couple of years now.
We've been really focused on Open Government and Open Data and unfortunately, in Canada, from a national perspective, we're not leading in the world and I've always seen Australia as a world leader.
Part of the challenge is that there's lots of great things happening here and until you step off the continent and talk to other people you don't realise all the great things you are doing.
Whether it's Canada, or the US, or even the UK, people are watching, observing and looking to replicate a lot of the great success that you're doing.
Pia:
Oh, well that's wonderful to hear. And what have you thought of some of the case studies that you've heard here, what have been some of the standout things that you've noticed?
Chris:
Well, for me, and as we're trying to drive forward with changing government, with transforming government using technology, a lot of the things I've heard in the sessions have validated that we're on the right track.
Whether it's leveraging social media, or looking at bringing your own device, how we use the cloud, how we can better collaborate with citizens. And so I appreciate coming to an event like this not just to talk about what we're doing but also to hear what other people are doing and either finding out that we're on the right track or we're slightly ahead of the pack.
And you know, in government people don't talk about competition, but people are looking to be a leader in their country or in the world in certain areas, so people share information but I can always tell that people are making notes and going back to their agency and saying "ok, we've got to get ahead of this agency or that country".
So a lot of great things, but still a lot of work to do.
Pia:
Ok, so just briefly, give us a little bit of an overview of some of the work you've been doing, particularly some of the restructuring organisational restructuring that you did, and the impact that's had now that you're a little bit down the track.
Chris:
Well one of the things I started a few years ago in IT was to look at how IT was showing up for the rest of the organisation and we needed to change the way we were doing things. We no longer could create sustainable environments by thinking we had to build everything, we had to support everything.
So we moved not just into open data, but into open ecosystems, doing apps competitions, partnering with the local community.
Some of the people in IT are a little nervous because they think they're going to have to support all these systems at the end of the day. We have made an aggressive move recently into the cloud, our council just two weeks ago approved our move to Gmail and Google Docs, so we'll be moving off of our Microsoft relationship that we've had for 20 years into that new space.
And it's not just about saving money, it's about collaborating differently, sharing documents, having a single version of the truth, both within the City and within our partners and our agencies around the City.
So at the heart of it we really had to change the way we were showing up and being IT professionals and giving ourselves freedom to look at alternate solutions and be flexible.
And I hear a lot of people even talk about it here. IT people make a lot of change with systems and technology but at the root of it, they seem to be one group that is the hardest to accept change for themselves.
Pia:
Great, well thank you very much for your time and have a fantastic time in Australia.
Chris:
Great, thank you.
Short video with Andrew Stott transcript:
Pia:
OK, here I am speaking to Andrew Stott, the previous Director for Digital Engagement in the UK, and many other grand titles, I just want to have a chat to you today about how you're finding FutureGov, and your thoughts on Gov 2.0 and what's happening in Australia.
Andrew:
Right well, well as last time I was here there's a lot of excitement about it. People are really starting to think about it, some interesting stuff going on. But still quite a way to go to get confidence in all departments to do it, and I hope people will pick up some of the things that have been done, innovative things that have been done in some departments and they need to think how they can apply it in their own.
Pia:
What have you seen the big changes since you were last here?
Andrew:
Ah, I think they've seen more in the sociel media space. I think obviously Queensland Police and things associated with the floods have really given a world class example of using social media. There's been the data.gov.au refresh that's happened and a few more data sets on that.
So you see the sort of green shoots coming through, now you've now got to think how you build on that and how you build the ecosystem of people and communities round that.
Pia:
And you spoke in your speech that we'll make sure we link to in this about the importance of collaborating with the community. You wouldn't mind touching on that a little for people?
Andrew:
Well I think one of the things we've learnt is that you've got to have the call for data as well as the push outwards, and actually just being presented with a file can be pretty daunting for a lot of people so it's the support and documentation of that.
Really good stuff done by the Treasury who had an open day for developers using the Treasury COINS database. Got them in and people who produced the data explained how it worked, how it linked together. But then there's also that ecosystem of entrepreneurs who build innovative businesses using the data.
But then, the big issue we haven't really looked at yet is how can people feed changes to the data back into government, and I gave the example of where we used crowdsourcing to improve the data on bus stops.
But that was very much an ad hoc feedback, so do we make that feed of getting citizens helping government improve its data.
And on the social engagement, digital engagement side, the question is, we can collaborate but how does the government show it's listening to that collaboration and taking action as a result of that.
Pia:
OK, and how do you think the UK is tracking, sort of a couple of years on in this. You guys have obviously been doing this since the Power Of Information Taskforce, so there's a few years back there but how do you think it is tracking now?
Andrew:
I think we're still learning as we go. Under the new government there's been a period when transparency has been to the fore, so we've released a lot of new data that I think without that political will wouldn't have been released.
I think we're seeing new experiments in terms of crowdsourcing policy ideas through the Spending Challenge, Your Freedom, the Red Tape Challenge, and good old stalwarts of digital engagement like the epetition system are being re-energised and we heard today that they've now had 600,000 signatures since they've restarted.
Pia:
Brilliant. Well I hope you enjoy the rest of your stay in Australia and look forward to seeing you again.
Andrew:
OK, thank you.
Posted by Kate Lundy
Categories: Blog, Public Speeches
Tags: ACT, broadband, Canberra, egovernment, gov20, gov2au, government, ICT, Internet, NBN, open data, open government, open standards